Carpet cleaners use water, detergent, and suction to remove dirt from carpets. They may be upright cleaners with a water tank and detergent dispenser or portable machines with a single water tank and a brush for spot cleaning and hard-to-reach areas. For more information, you can visit the Website.
Carpets are prone to heavy soiling, and more than regular vacuuming is required to keep them looking and smelling fresh. A professional carpet cleaner can reach dirt in the bottom of rugs that vacuums cannot, such as mold, mildew, and ground-in pet stains.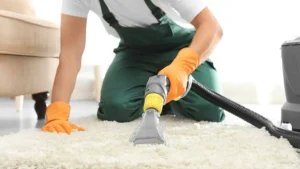 Carpet cleaners not only make your home look clean and smell nice, but they can also improve your and your family's health. Dirty carpets can be a breeding ground for harmful bacteria, allergens, and germs. These pollutants can be inhaled and can cause various health issues. Professional carpet cleaning can eliminate these pollutants and improve indoor air quality.
Dust particles, pet dander, and other allergens trapped in the carpet fibers can trigger allergies and asthma. When someone walks on the carpet, these particles can be released into the air. Professional carpet cleaners use high temperatures to kill these allergens and can remove the dirt particles embedded in the fibers. This can help reduce the symptoms of allergies and asthma.
The fungi and bacteria that grow in moist areas can lead to the formation of molds and mildew. When this happens, it can cause respiratory problems for people in the house. Professional carpet cleaners can use special shampoos and equipment to remove these substances from the carpet. They can also use powerful equipment to dry the carpet quickly, preventing molds and other contaminants from growing in the future.
Another benefit of professional carpet cleaning is that it can help improve mental health. When a home is dirty and full of pollutants, it can be stressful for a person. This can lead to anxiety, depression, and stress-related illnesses. A messy house can also affect one's ability to work or focus. Regular carpet cleaning can eliminate these pollutants and improve a person's overall mood.
Keeping your carpets clean is important, especially if you have children or older adults in the house who have breathing issues. The allergens and toxins that get trapped in the carpet can cause them to have respiratory problems. If you have a child with asthma, the toxins can trigger an attack. A professional carpet cleaning company can use a powerful machine to remove the toxins and help your child breathe easily. This can also improve their immune system and prevent them from getting sick frequently.
Carpets are an attractive and cost-effective flooring option that can complement almost any room's décor. However, they attract dirt and grime, making them look dull and dingy. Regular professional cleaning can help your carpets stay clean and pristine.
Carpet cleaners use high-temperature water and specialized cleaning solutions to penetrate deep into the fibers, removing dirt and grime that vacuuming alone can't reach. These techniques also help prolong the lifespan of your carpets by reducing premature wear and tear.
In addition to preserving the appearance of your carpets, professional cleaning also helps remove unpleasant odors. This is especially important in homes with children, pets, or both, as dirt and smells can be trapped in the carpet's fibers for extended periods. Regular carpet cleaning can also help prevent the growth of mold and mildew, which can cause respiratory issues.
Whether you have wall-to-wall carpeting or area rugs, clean carpets can instantly improve the appearance of any space. They look brighter, are more inviting to guests and family members, and offer a softer feel underfoot. Additionally, removing dirt spots and stains from your carpets can give your home a fresh, clean smell that lasts longer than simply sweeping the floors.
Many people live in homes with carpeting because of its comfort and warmth. However, it's easy for dirt and stains to build up over time. Regular professional cleaning can ensure that your carpets remain soft and supple, allowing you to enjoy all the benefits of living with carpeting.
Carpets filter, trapping dirt, dust mites, fungus, and other pollutants affecting indoor air quality. These pollutants can trigger allergies and asthma in sensitive occupants. Professional cleaning can help reduce allergens and irritants in the environment, making it a healthier and more comfortable space for everyone to live and work. It can also increase employee satisfaction and productivity, as healthy employees are less prone to illness and absenteeism. A well-maintained and visually appealing office can enhance a company's reputation and create a positive first impression on clients and business partners.
A carpet cleaner uses water, detergent, and suction to remove dirt and grime from your home's flooring. This type of cleaning method is more effective than sprays or scrubbing. It also helps remove deep stains and eliminates odors that make your carpets smell musty and unpleasant. In addition, regularly cleaning your carpets extends their lifespan and makes them look new.
If you're uncomfortable using a carpet cleaner, you can hire a professional service to do the job for you. A professional carpet cleaner will have the expertise and equipment to eliminate lingering stains, deep soiling, and hidden allergens that can cause health problems such as respiratory issues and allergic reactions.
When selecting a carpet cleaner, consider its size and features to ensure it fits your home well. Upright carpet cleaners are large machines that look similar to vacuum cleaners and have a water tank, detergent dispenser, brushes, and powerful suction. They're ideal for homes with lots of carpeted rooms and stairs. Portable carpet cleaners are smaller and can be used for spot cleaning and hard-to-reach areas.
Some carpet cleaners use smart technology to simplify the cleaning process and save time. For example, the Tineco combo vacuum/carpet cleaner has an app that adjusts suction and water flow according to the level of dirt detected in the room. It also provides voice prompts for refilling the clean water tank and emptying the dirty water tank. It also has a built-in heater to keep the cleaning solution at an optimal temperature for stain-fighting effectiveness.
Other carpet cleaners come with accessories and attachments to make them more versatile. For instance, some models have a crevice tool that lets you reach tight corners and spaces, while others have an upholstery tool for removing pet stains from furniture and other soft furnishings. Other features you may find helpful include a one-touch button for starting a cleaning cycle and a hose with a nine-foot extension to get into hard-to-reach areas such as behind furniture.
If you have an active family, a durable carpet cleaner can help you maintain your home's flooring and increase the comfort of your living space. It can also make your home or office healthier by removing trapped pollutants and enhancing airflow.
Carpet cleaners often use flammable chemicals, which pose a fire risk. They may also contain other hazardous materials, such as solvents, dyes, and fragrances. They can also release toxic fumes if not used properly, and exposure to these can cause respiratory problems. Proper ventilation and wearing face masks, gloves, and protective clothing can minimize these safety risks.
Clean carpets improve indoor air quality in homes and businesses by reducing allergens, dust, and debris. They also reduce unpleasant odors, such as those caused by pets or tobacco smoke. This is important for family health and well-being, especially for those with allergies or other breathing issues.
Dirty carpets can also trap moisture and lead to the growth of mold and mildew. Regular cleanings can prevent these problems and extend the lifespan of the carpet.
When professional carpet cleaners clean carpets, they can remove the dirt and debris trapped in the fabric's fibers. This will make the carpet fibers more resilient and improve their overall appearance. In addition, if the carpet has pet stains or other problems, the cleaning process can help eliminate them and leave the carpet looking new again.
Occasionally, carpets not regularly cleaned can become matted down and have their naps ruined. This makes them look dull and dingy, and relaxing in the home or office can be difficult. Professional cleaning can help restore the texture and appearance of the carpet and make it look much more appealing.
Allergens like pet dander, mold spores, and pollen can become trapped in carpeting, triggering asthma and allergy attacks. Regular cleanings can reduce the number of these allergens, which can lead to healthier people and fewer sick days.
Carpets that are not regularly cleaned can require replacement sooner than if they were professionally maintained. This can be costly, so it is important to keep up with routine cleanings to extend the life of the carpeting. Professional carpet cleaners have the equipment and knowledge to do the job quickly and efficiently.