Commercial Cleaning Services are services that are contracted to clean a variety of premises. These facilities include restaurants, offices, retail outlets, and more. There are several benefits to using these services: they are more environmentally friendly, hygienic, and cost-effective. In addition, these services create a better first impression.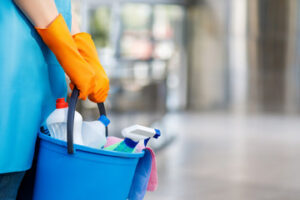 There are many options when it comes to commercial cleaning. You can hire a company to clean a large space once or twice a month for a set price. Other options include daily or weekly service. This type of service will clean your property for a certain number of hours per day, depending on your needs.
Most companies charge a flat rate for their basic services, but there are some exceptions to that rule. Some cleaning services are more expensive than others, such as pressure washing and gutter cleaning. You may also need to hire a janitorial company for specialized services, like removing waste and stripping floors. In addition, you may need to pay extra for other services, such as appliance cleaning.
The cost of cleaning service can vary, depending on the number of restrooms and the size of your office. For example, a small office with a few employees may only require a basic cleaning service once a week or twice a month. This type of service may cost $100 to $150 per month or $33 an hour. Larger offices may require more frequent cleaning, which can run up to $410 or $510 per month.
Before hiring a cleaning service, consider the price per square foot and the number of man hours per job. This will give you an idea of what to charge for the work. Also, if you know the type of cleaning your business requires, it may be possible to buy the supplies yourself and save money.
There are two main types of commercial cleaning services – standard and specialty. Basic services include sanitizing surfaces and carpet cleaning. More specialized services, however, cost more per square foot. These include buffing and burnishing floors, window cleaning, and ceramic tile cleaning. Often, these services are performed weekly or every other day.
Hygiene is an important factor to consider when choosing a commercial cleaning company. Today, customers have high expectations of companies that maintain strict sanitation protocols. In fact, half of the small businesses plan to increase their cleaning efforts in the next year. Companies that offer hygienic commercial cleaning services can help their customers and keep their businesses in good shape.
An unhygienic environment costs business owners more than they might realize. Across the states, businesses lose about $85 billion per year due to unhygienic environments. This includes the costs of respiratory conditions caused by poor workplace air quality, as well as mental health issues related to a workplace's environment. By ensuring a clean and hygienic workplace, commercial cleaning services can help businesses protect their workforce against illness and foster a supportive working environment.
In an effort to reduce the environmental impact of their operations, many commercial cleaning services are switching to greener cleaning practices. This change can have a positive effect on a company's brand name. Businesses that use green cleaning methods can also save money. These eco-friendly cleaning services tend to charge less than conventional janitorial services.
When it comes to green cleaning methods, green cleaning companies use green cleaning products and techniques that are gentle on the environment. The result is a cleaner home or office with a lower carbon footprint. Additionally, green cleaning companies make use of natural cleaning methods and do not use hazardous chemicals in their work. This helps protect the environment and reduces health risks.
Green cleaning products are becoming the norm in today's market, bringing significant improvements to the cleaning industry. The shift toward sustainability is largely driven by the needs of customers, who have become increasingly conscientious. In addition, greener products and practices can help cleaning companies save money while providing excellent service.
Choosing a green cleaning company is important for many reasons. Eco-friendly cleaning products are often safer and more effective, but they're not completely free of chemicals and toxins. Choosing a company with environmentally friendly cleaning products can make a huge difference in the overall health of the environment. Cleaning companies will be less likely to end up with a large environmental impact, which is good news for everyone.